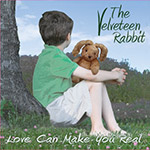 Click Here for more information
and to hear samples
or to purchase the recording.


THE VELVETEEN RABBIT: Love Can Make You Real
2008 GRAMMY NOMINEE
BEST MUSICAL ALBUM FOR CHILDREN

Margery Williamsí magical tale comes to life in a new narrated version with songs and orchestrations by GRAMMY and Tony Award winning composer Don Sebesky and Parents' Choice and ASCAP Award winning lyricist Gloria Nissenson.
The Velveteen Rabbit CD goes on the road for a National Tour!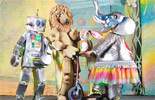 Enchantment Theatre Company brings this charming tale of love and devotion to the stage using music from the Velveteen Rabbit CD, extraordinary puppets, masks and magic, creating an unforgettable theatrical experience for the whole family. Click Here for detailed information about the production.
"DON SEBESKY's music is beautiful, moving and uplifting."

"GLORIA NISSENSON's lyrics are poignant, heart-warming and fun."

"JANINA SERDEN's voice is rich and distinctive. Her narration is charming, unusual, and always keeps its
motherly tone."

"The rabbit and fellow character
voices are sensational!"

Featuring performances by JANINA SERDEN, EMILY BINDIGER, RON MARSHALL, TERRY TEXTOR,
and DONNA VIVINO

Music arranged, performed and conducted by DON SEBESKY

Narrated by JANINA SERDEN